Landlord pays for renter's grow-op
'A grow-op, whether legal or not, is still a high-risk activity,' Insurance Bureau says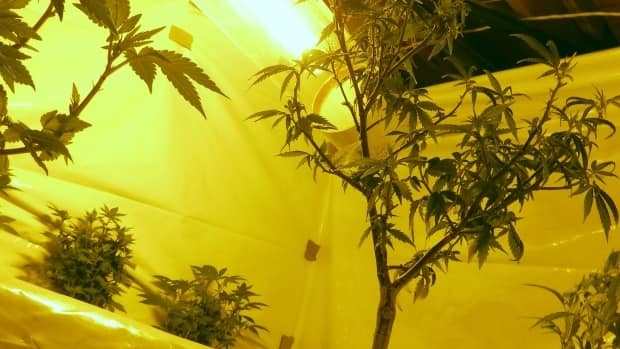 Longtime landlord Darryl Spencer was left scrambling for insurance after discovering a tenant was growing dozens of medical marijuana plants inside and outside his rental house.
When the landlord told his insurance company about the perfectly legal grow-op, his coverage was cancelled, leaving him with no insurance, few rights and a big cleanup bill.
Spencer says the downstairs tenant in the Kamloops, B.C., rental property got a medical marijuana licence that allowed him to legally grow as many as 60 plants without his landlord's permission or knowledge.
A call from a concerned neighbour prompted Spencer, who is also a retired fire inspector, to check out the home he's rented out to different tenants for a decade.
He discovered a mess of extension cords, fans and bright lights packed into a room filled with dozens of marijuana plants. The upstairs tenant, a woman with a small child, was complaining about heat radiating through the walls and electrical breakers going off.
"I was worried about the fire hazard. That was my first thought because of the extension cords, the use of electricity and that something could catch fire," Spencer told Go Public.
Under new federal rules introduced last August, landlords have little recourse if a tenant is growing licensed medical marijuana. They don't even have the right to know it's happening. Yet it's landlords who are being denied insurance coverage when a tenant is growing medical pot.
Go Public also found, while the federal government implemented the rules, it wants local authorities to ensure medical grow-operations are being set up and run safely. More than 30,000 people in Canada have permits to grow cannabis for their personal medical use.
Insurance cancelled
When Spencer notified his insurance company about the tenant's grow-op, Gore Mutual Insurance cancelled his coverage.
"They wouldn't cover claims to do with medical marijuana or air quality contamination," he says.
In a statement to Go Public, Gore Mutual Insurance says it "does not provide coverage for marijuana grow-operations regardless of their legality because this type of operation in a residential building presents inherent insurance risks."
Those risks, the company says, include "a greater likelihood of water damage, mould, fire, vandalism and burglary."
Under most basic home insurance policies, marijuana-related damages or anything that companies believe is "high risk" is not covered.
That view is shared by many insurance companies, according to the Insurance Bureau of Canada.
"While regulations may allow for the legal growing of marijuana for medical purposes, it does not change the structural risk grow-ops pose to homes and condos," Andrew McGrath, spokesman for the Insurance Bureau, tells Go Public in an email.
"The operation of a grow-op, whether legal or not, is still a high-risk activity."
Landlord jumps through hoops
Gore Mutual Insurance told Spencer it might reinstate his coverage if he got rid of the tenant and took specific steps to ensure the house was safe to live in.
The insurance company also wanted air and soil testing, plumbing and electrical inspections, and the house checked for mould.
Spencer did it all, while searching for another insurance company that would cover him right away. None would.
"I went all that time with no insurance which was pretty nerve-wracking knowing there were many implications involved there. You can lose everything you worked so hard for your whole life," he says.
The tenant did move out, but only after Spencer paid him $1,300 to leave and returned his full damage deposit despite issues with the suite.
All in, Spencer estimates he's out more than $5,000 in costs related to the medical grow-op.
Privacy trumps landlord rights
In February 2016, a Federal Court judge gave Health Canada six months to come up with new rules that would give medical marijuana patients better access to pot, allowing more patients to grow it at home.
Its response was the new Access to Cannabis for Medical Purposes Regulations, which came into effect Aug. 24, 2016.
"The new regulations do not require individuals who wish to produce a limited amount in their residence to notify or seek the consent of their landlords as such requirements would likely infringe on their right to reasonable access to cannabis for medical purposes," Health Canada spokesman André Gagnon wrote in a statement to Go Public.
Decisions made 'in a vacuum'
Landlord B.C., an advocacy group for landlords, says it respects the importance of marijuana therapy for those who need it. But CEO David Hutniak says the group believes property rights also are important.
"[Health Canada] basically made the decisions, from our perspective, in a vacuum," he says.
Hutniak says the federal government failed to provide clear direction for landlords and insurance companies when it made changes to medical marijuana rules.
Safety inspections not done
Under the new rules, Health Canada gives specific guidelines on how to safely set up medical grow-ops.
But when it comes to checking if safety rules are being followed, the federal department is leaving that to municipalities.
The problem, according to the development and engineering services director for Kamloops, is federal privacy rules prevent local authorities from knowing where marijuana is being grown.
"We don't get a list of the address, so we can't proactively go around and do inspections," Marvin Kwiatkowski says.
There also is no system in place to proactively check if tenants are growing the allowed number of plants and following their permit.
Go Public put the issue to federal Health Minister Jane Philpott, but her office declined an interview, saying the federal government's role is to ensure people who need medical marijuana have access.
Double the cost
Two months after his insurance was cancelled, Spencer found a company that specializes in covering medical grow-operations. The coverage cost almost twice what he used to pay and has a much higher deductible.
After Go Public contacted his original insurer, Gore Mutual, it offered to reinstate Spencer's policy for almost the same amount he used to pay.
Spencer took Gore up on the offer, and says it's the federal government that needs to make changes.
"This has been a big mistake and I hope it gets rectified soon."
Article compliments to http://www.cbc.ca/news/canada/british-columbia/go-public-medical-marijuana-landlord-tenant-insurance-pulled-1.3985875