Pushback on rent increase
Increase the highest in five years
Allowable rent increase for month-to-month tenants set at 4 per cent for 2018, the highest in 5 years.
B.C. tenants rights advocates are calling on the new BC NDP government to freeze rents and deliver on its affordable housing campaign promises.
The renewed call comes as the B.C. Residential Tenancy Branch has set the maximum allowable rent increase for 2018 at four per cent — making it the largest potential rent increase in five years.
Maximum rent increases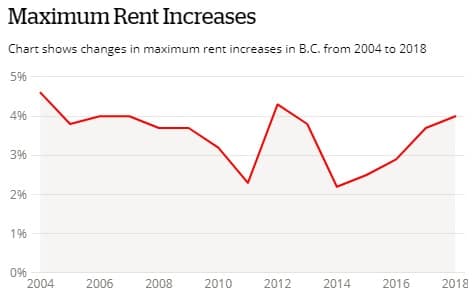 "I think this … is unfair and unreasonable," said Lama Mugabo, a founding member of the Vancouver Tenants Union. "I feel that it's about gouging renters for more money."
On social media and online, renters in cities like Vancouver also decried the four per cent increase, calling it atrocious, ridiculous and unfair.
B.C.'s annual allowable rent increase is two per cent plus inflation. According to the Bank of Canada, inflation was at two percent for January and February, before dropping to one per cent in June.
Tenants rights
The Vancouver Tenants Union launched in April, with the aim of providing advocacy for tenants facing high rents, so-called 'renovictions' and a lack of services.
"We have to advocate for the rights of tenants, so this exploitation stops," said Mugabo.
The union is calling on the provincial government to immediately freeze rents for the next four years and to amend the Residential Tenancy Act or RTA.
It wants a loophole closed that allows landlords to offer one-year leases to tenants, which essentially allows them to resign the lease or offer it to someone else at a much higher cost than what's allowed under the RTA.
"As problematic as the four per cent increase is, if you have a fixed-term tenancy with a vacate clause, you could be facing a much more significant increase," said Andrew Sakamoto, the executive director of the Tenant Resource and Advisory Centre or TRAC.NDP promises
The CMHC, says, in 2016, rents in Vancouver had a sharp increase of 6.4 per cent, even though the standard rent increase for that year was 2.9 per cent. The corporation says the difference was due to tenants signing new leases with landlords.
Officials with B.C.'s housing ministry said the government is promising to close the loophole that allows landlords to "unfairly" raise rents at the end of a short fixed-term lease, even though the same tenant remains in place.
The BC NDP campaigned on protecting renters with a rebate of $400 per rental household per yer and closing the fixed-term lease loophole.
As for the standard rent increase, officials say the cap is in place "to provide for predictable, transparent and manageable rent increases to the benefit of landlords and tenants."
Article thanks to: http://www.cbc.ca/news/canada/british-columbia/bc-tenancy-push-back-over-2018-standard-rent-increase-1.4263350
As a representative for both the property investor and the tenants alike, APM would like to see a fair solution for both the landlord and the tenants. With the City of Kelowna's accelerated plan to increase rental inventory in 2018/2019 this will assist to level rent demand and henceforth the rent rates accordingly.