New Deal reached for Kiwanis Tower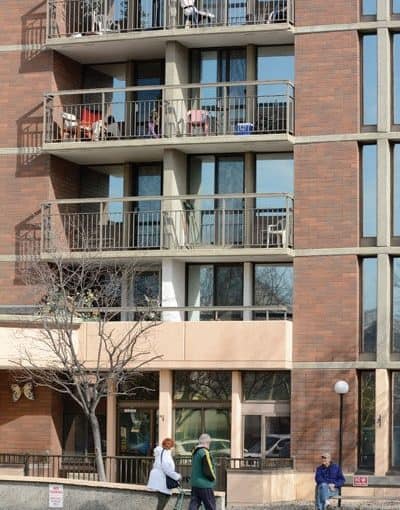 Current residents of the Kiwanis Tower in Kelowna can remain in their suites and pay the same rent under the pending sale of the 13-storey building.
The Kiwanis Club plans to sell the 146-suite tower, home to mostly elderly people, to Lawrence Holdings, a private, Vancouver-based real estate holding company.
"We look forward to continuing to provide affordable housing to existing tenants under the terms of their current rental agreements," Karen Sigurdson, a spokeswoman for both the Kiwanis Club and Lawrence Holdings, said Sunday.
The proposed sale price is not being disclosed. The Kiwanis Tower, built in the mid-1970s at the corner of Lawrence Avenue and Gordon Drive, has an assessed value of $9.4 million.
Lawrence Holdings has real estate assets across Western Canada, Sigurdson said.
"They look at the Kiwanis Tower as a solid structure that has been well-maintained," she said. "The building is in a good location, and it's an attractive investment for them."
The 20 members of the Kiwanis Club will use the proceeds of the sale to set up a legacy for new programs or services. Details have not yet been finalized, but the fund will likely be directed toward projects that benefit children.
"In today's business environment, building ownership and management has become increasingly more complex, and we know that special skill sets are required to effectively manage a building like the tower," said Bob Bissell, a Kiwanis Club member.
"The new owners and property manager will bring those skill sets and more to tower operations, securing a positive future for the building and its tenants," Bissell said. "Knowing the tower's in good hands, we can focus on helping Kelowna's kids."
Earlier this year, the Kiwanis Club announced plans to sell the building to a Kelowna group with the involvement of the Kelowna Foundation for Hope and Social Innovation. That deal, which also specified a year-end closing, did not proceed.
Residents of the Kiwanis Tower will learn of the proposed sale to Lawrence Holdings through notices being delivered to their suites today.
When it opened in 1976, the Kiwanis Tower was the tallest building in Kelowna. It was designed to provide affordable housing to low-income seniors.
http://www.kelownadailycourier.ca/news/article_11a98c1a-baab-11e6-a0f4-135d806b8358.html
the-daily-courier-dec-5-front-page
Should you have any questions relating to this management change – please contact Daniel Lobsinger (Owner/Broker of Associated Property Management) 250-712-0025