About Associated Property Management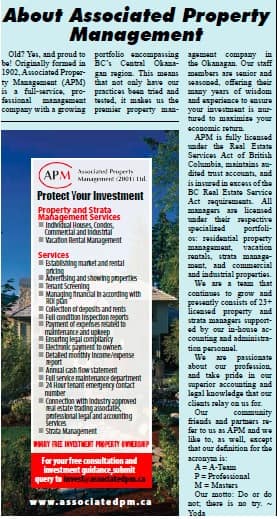 Old! Yes and proud to be! Originally formed in 1902, Associated Property Management is a full-service professional management company with a growing portfolio, encompassing BC's Central Okanagan region. This means that not only have our practices been tried and tested; makes us the premier property management company in the Okanagan; our staff are senior and seasoned offering their many years of wisdom and experience, to ensure your investment is nurtured to maximize your economic return.
APM is fully licensed under the Real Estate Services Act of British Columbia, maintains audited trust accounts, is insured in excess of the BC Real Estate Service Act requirements and all managers are licensed under their respective specialized portfolios; residential property management, vacation rentals, strata management; commercial and industrial properties.
We are a team that continues to grow and presently consist of 23+ licensed Property and Strata managers supported by our in-house accounting and administration personnel.
We are passionate about our profession, and take pride in our superior accounting and legal knowledge that our clients relay on us for.
Our community friends and partners refer to us as APM and we like to as well; except our definition for the acronym is:
A = A-Team
P = Professional
M =  Masters
Our motto: Do or Do not; there is no Try ~ Yoda
http://enewspaper.makemynewspaper.com/okanaganpress/okanagan-press-august#.V7IsoPkrLIV